As an Amazon Associate I earn from qualifying purchases.
The word "newborn" is intimidating enough to first-time moms and dads. If you're not the couple that's expecting it's easy to awh over a pregnant mom or new baby. But for the expecting parents, there are a million little things that come along with a newborn. Take a look at these newborn essentials.
Feeding supplies, such as bottles, multiple different flows of nipples, scrubbing brush, drying rack, sanitizing bags, bibs/burp cloths, etc.
Different sleepers/loungers/seats….Dock-a-tot (or something similar), Halo Bassinet, Boppy Lounger Pillow, a swing/bouncer.
Clothes, Clothes, and more Clothes… To be honest, when my son was born I wanted ALL the cute outfits. Sometimes with cute comes crowded and uncomfortable for baby. I can recall maybe one or two times we actually put Joshua in one of those cute outfits. The majority of the time we were at home, so he lived in comfy onesies (which are the budget-friendly baby wardrobe). But along with all of the tiny little onesies baby needs pants, socks, possibly a little hat.
Miscellaneous items: shades for the car window, boppy nursing pillow, baby monitor, stroller/car seat, blankets
Changing supplies: changing pad, diapers, wipes, diaper cream, powder
We had enough baby items with Joshua to use for 5 different babies. Some things we loved & used every day. Other things we had no need for and never even opened. I wanted to share some awesome newborn essentials, to make your life as a new mama a little bit easier!
Newborn Essentials
One item that we didn't have with Joshua but I would have loved to have is a Dock a Tot. The Dock a Tot is a cosleeper/lounger. This lounger is 100% cotton and reinvents the womb. It is ideal for travel!
This baby lounger is what we got this time around vs. the Dock a tot, due to it being more budget-friendly. The Mamibaby lounger is 100% cotton just as compared to the Dock a tot. Both lounger's features are very similar from the material, removable cover, travel-friendly, cosleeper.
This had to be one of my favorite loungers for Joshua! Just a heads up, this is not a sleeper! Joshua did nap in the Boppy Lounger while I was supervising him but never slept in it overnight. I will say, I wish this was a sleeper because he caught some good Zzz's in this thing!
This car seat canopy is another item that I didn't have for Joshua but wished I would have. There are quite a few seat covers on the market but this one seems to be my fave. The stretchy elastic covers seem to be popular. With those, you have to remove the cover every time you put in/take baby out of the car seat. While it still does its job, it comes with a major inconvenience. The canopy's (shown above) velcro around the car seat handle and have a clasped flap on the front which makes it easy to get to your baby.
The purpose of these canopy covers is to protect your baby from the harsh sun, wind, germs, nosy strangers, bugs, rain, etc. I would say it's a must-have! Trust me, I learned the hard way.
While car sun shades might not seem like a huge deal, they are. Who likes riding down the road and the sun gleaming directly into their eyes?! No one! We've been using this brand for a while now and love them. The best feature is that they're retractable. I don't think that I've ever seen a different brand that retracts as these do.
If you've read some of my other posts you know that Joshua had some feeding issues in the early months of his life. So for me to recommend a specific bottle brand means something!
These bottles are made for reducing colic, spit-up, burping, and gas. It reduces the amount of bubbles with its vent system.
I will say, my only complaint about the bottles is the cleaning process. It does take a little while longer to clean these vs. other bottle brands. To me, it's a small pain but worth my while.
This Graco swing/rocker saves money and space! This is what we used with our son. The removable seat doubles as a rocker. This machine plays music and has 2 different vibration settings to help calm baby.
One of the most important items of them all..onesies! When I tell you that you cannot have too many of these I mean it! I swear we changed Joshua at least 6-10 times a day. So many things can happen to that fresh and clean onesie. Spit up, milk running down baby's chin, blowouts, etc. Be prepared with multiples!!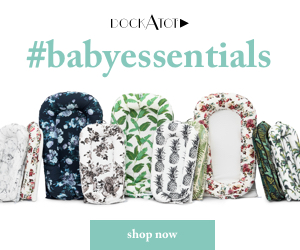 If you're currently expecting a little one check out this post! Pregnancy pillows are extremely helpful in helping you feel comfortable, in the least comfortable times.